Below are some of the key features and benfits of our Dealer Management Software. There is far more to the programme than we have space to show you here, but we are very proud to showcase some of them. We've also taken great pains to ensure that you, the user, can pick and choose which parts of the programme you want to use and how, so that it best suits your business.
Why not get in touch via the contact details to the right to arrange to see for yourself what our software can do for your business?
(Please click on the thumbnail images below to see larger versions of each image.)
Easy to use and simple to navigate.
Menu driven design, making navigation intuitive and clear. No hidden menus or rows of confusing icons and buttons, just straightforward menus taking you where you want to go with minimum fuss. No time is wasted trying to work out what icon does what or learning which F-keys you need to press.
User level security is built-in and easy to set up and maintain. You can determine how much of the information and programme is available to each member or group of staff. For example, you may not want every employee to be able to alter stock quantities, so you can set these levels to grant access where it is needed. Each member of staff has their own password to login with, or alternatively you can just scan a badge with a barcode on it to identify each user so they don't even have to remember passwords! Green Logic Systems can then record which member of staff did what and when, even printing their initials on the invoice.
Detailed Information is always to hand.
Everything you need to know about your customers is only a click away. Each customer has detailed information, such as multiple delivery addresses and contacts. Folders can be created to drag-and-drop files and images into – ideal for storing that unusual parts diagram or keeping an email attachment, all in a single location that anyone can find in the future. For computers connected to the internet, there's even a feature allowing you to view your customers address on a map, plotting the route from your premises to the customers address.
You can see the various tabs across the top of the screen (Customer Details, Current Invoices, Invoice History etc) that all relate to this particular customer. The equipment owned tab shows all of the equipment this customer owns (or has owned in the past) – either purchased from or repaired by you – and also shows every spare part ever fitted to that machine.
This image shows the Purchase History tab for this customer. It shows every item they've ever purchased (either as a spare part or fitted to their machinery during a service or repair) and the pop-up window in front shows even greater detail about the purchase of a single item – down to each Invoice they purchased this item on and your cost price for it. Double clicking on the Invoice Number will open the original Invoice for you to see what other items they purchased at the same time.
Stock Control and Inventory
Inventory items are split into two distinct groups. Firstly, shown here, is a list of 'Item Stock', which contains all spare parts, tools, accessories etc that are bought and sold in multiple quantities. The second group, contains all your stock of new equipment, or what is often referred to as whole-goods. These are any products that are higher value items and usually Serial Numbered. The screenshot to the left, shows the entire inventory of items that have been entered onto the system. These have either been manually added as stock has arrived or been ordered, or they have been imported directly from a manufacturers or suppliers parts list. Most suppliers are happy to provide their parts price lists free of charge, in spreadsheet format, and then the user can upload these in a few simple steps. The top left corner of the screen shows the search criteria that has been entered to sort this list to only show items from Hayter that contain the word 'wheel' in their description. The bottom left hand corner shows that Green Logic Systems has found 27 items that match these criteria from the current inventory of 91324 individual lines. This list also shows the 'Free Stock' quantity on hand as well as the quantity that are currently on Purchase Orders and available to Invoice once they arrive. The column of buttons on the left of the list allow you to quickly add your chosen Items to an Invoice, Order the Item or View further details of that Item – see next screenshot.
This screenshot again has multiple tabs along the top to give the depth of information that dealers require about their inventory. The image shows the main 'Item Details' tab, where all of the item information can be seen and edited. In this instance, we've 'taught' Green Logic Systems the barcode on the box of this NGK spark plug. So now adding this item to an invoice or workshop job is as simple as scanning the barcode. Each item can be cross referenced to other similar items – for example we could add a cross reference here to an RJ19LM equivalent plug by Champion, if we were to stock them too. Green Logic Systems can also be taught to order items under different part numbers. For example, some manufacturers have a different part number for multi-pack items, or an aftermarket supplier may use their own part number for the same item. Green Logic Systems can take care of all of this for you, making sure you order the correct quantities and even using the correct 'Make' prefix letters that some suppliers use.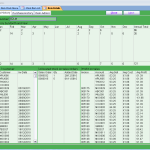 The 'Sales History' tab shows month-by-month sales, with annual sales totals, along with a list of every single invoice that this item has been sold on. Double clicking the Invoice number will take you directly to that Invoice, where it can be viewed or re-printed. The lower right 'Profit on Sales' list even gives the unit and line profit for this item on each invoice. It is also worth noting that Green Logic Systems uses actual purchase cost information wherever possible, rather than averaging. This makes the information obtained far more valuable and useful when deciding what stock holding of any item should be kept and enables you to reduce stock holding and improve that all important Cash Flow.
Accounts, Finance and Management Reporting
With a comprehensive set of Accounts features, including profitability, income and expenditure, all of which can be exported to spreadsheets where you can analyse and produce charts to whatever detail you wish. Debtor and Creditor lists let you keep up to the minute with the state of your finances and cash flow, as do the in-built reports for such things as Work In Hand, Un-allocated Payments, Customer Spend History. Add in the ability to manage multiple Bank Accounts and reconcile statements, set up recurring automated payments and manage Supplier Accounts, and you have many of the features of a dedicated accounts package. This screenshot shows a Bank Account Statement and illustrates how easy it is to keep track of all your accounts, be they current accounts, petty cash accounts, credit cards or directors loan accounts.
(click image below to open a new window containing the pdf document)
Give a professional appearance to everything you do.
Barcode scanning makes invoicing the smallest item quick and easy. Printing professional looking invoices or producing quick concise Till Receipts from a dedicated Till Receipt Printer and providing an EPOS Solution with an automated Cash Drawer, all combine to let your customer see that you are an efficient business, who is in touch with modern technology. This can give you that all important edge over a competitor, who perhaps still hand writes invoices or wastes hours every week typing them up individually. No longer do you have to buy pre-printed job cards or multipart invoices, Green Logic Systems prints everything onto plain A4 paper from standard printers. It can even produce any printed matter directly to a pdf document, the industry standard for emailing Invoices and Statements direct to your customer.
(click image below to open a new window containing the pdf document)
Invoices and statements have space for you to enter your own text such as the 'All goods remain the property of….' as seen at the bottom of this statement. You can enter your bank account details on the statements and we've left a space to the right of it to enter an advert or promotion. This can be added or changed each month as the statement run is produced, allowing you to inform your customers of any special offers or promotions you may have on. You can even alter the severity of the wording shown on the Statements – here we have the default wording of 'This Account is very overdue, please contact us to arrange immediate payment', which shows on all statements which are overdue by ninety days or more. Less urgent text is shown for thirty and sixty day accounts, but again these can all be tailored to your needs.
(click image below to open a new window containing the pdf document)
Versatility to suit your way of running your business
With Green Logic Systems Dealer Management System there are many ways to use our software. The software will allow you to run a virtually paperless workshop. At any point, from anywhere on the network, you can access the Job Allocation List. This shows you all of the Workshop Jobs in the system, be they in progress, waiting to be started, waiting parts or completed. This Allocation List allows you to allocate certain jobs to certain mechanics, with the freedom to move jobs up and down the list whilst speaking to that particularly awkward customer on the telephone (of course, we can't say whether you should be moving that particular job up or down the list!). It can even show you which mechanic is doing which job right now and even how long since they started it. When a Mechanic is ready to start a new job, they go to a simple form where they can log in (by password or by scanning their barcode on a badge) and select 'Next Job'. This will automatically start a timer and prevent this job from being issued to another mechanic. When the mechanic is done with that job, for example they require parts, they simply press the button 'Parts Required' which logs them out of the job and prevents it from be re-issued until the parts have arrived. They are now free to start the next job on the Allocation List.
Whilst all of this is very powerful and versatile, we realise that some dealers are more interested in obtaining good stock control and producing professional invoices, rather than managing their mechanics or workshop. So Green Logic Systems allows you to bypass all of the above and to just print out a paper jobcard as seen here. Your workshop can continue to be run without using any of the above features, but should you decide to automate the workshop in the future, all these benefits are already there for you to use as and when you want. This freedom to choose which features you use can be found throughout Green Logic Systems and many of the everyday tasks of running the business can be done in a number of different ways to suit your existing business. Another example of this, is the dealers that use a dedicated accounts package for all their expenditure, payroll and VAT and simply import the income data and stock valuations from Green Logic Systems into their accounts package. You can use as little or as much of our software as you like, but in the knowledge that it's all there ready for you should you want to explore it further.