Where ideas can be turned into income.
Green Logic Systems Ltd can help you make your online business a reality. Whether you need a new logo designing, or are re-branding your existing business, right through to creating a new website from scratch, we can help.
Search Engine Optimisation or SEO may seem like an entire black art, with self-proclaimed experts telling you how difficult it all is, assuring you that spending thousands of pounds with them is the only way you'll rank highly in Google searches. But the reality is that there is no magic solution that can be applied to any website to guarantee top rankings. Nowadays, thankfully, it's all about content and relevance. A well written site, with a few basic structures in place, with good quality content, will have the best chances of reaching the top spots in all search engines. This is where we can help tweak existing sites and is obviously, in-built, within all new sites that we create.

From one page sites to help your local customers find you quickly and easily, to a full e-commerce venture, it doesn't have to be as difficult or expensive as you may think.
Here at Green Logic Systems Ltd we have the necessary skills to work with all the major web and scripting languages. We also utilise locally based experts for language translation, to expand your worldwide presence, so you really can think about making your ideas global. Furthermore, our database environment expertise means that we can custom write web based applications, be they for in-house or commercial purposes. We can also integrate with your existing software, for example, to provide live stock management for retail sites.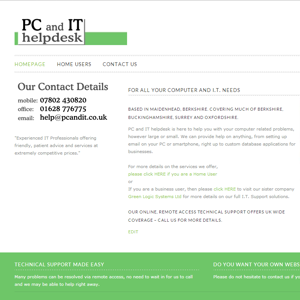 Websites needn't cost a fortune. Are you after something clean and simple, for your local customers to find you, and understand the services you provide? If so, then a basic website, like that of our sister business PC and IT Helpdesk, for domestic PC Users, could be yours for as little as a couple of hundred pounds! It could even be yours for no initial outlay at all, if you take one of our fully supported packages, where we create the site and then fully maintain the entire site, content and all, for a fixed, affordable, monthly fee.
Please contact us with your requirements and we'll be happy to take time to talk them through with you before we offer you a competitive quote.